Another one for the ever growing list of series to follow. 
Mr Robot er meget fremme for tiden. Den har været igennem Emmy'erne, blevet anbefalet i dvs medier og jeg har også modtaget en del personlige anbefalinger forskellige steder fra. Men ærlig talt var det ikke kærlighed ved første blik. Mere tvungen kendskab efter endnu en anbefaling fra en vens ven. Dog, som så mange andre serier jeg er faldet for, har den understreget vigtigheden af ikke at dømme en serie ved dets introducerende billede. Jeg troede, bare ved at se på billedet, at det handlede om en robot-menneskelignende gut's vej igennem samfundet. Jeg blev træt bare ved tanken, for der har ærlig talt været mange film om lige præcis det emne. Mødet med denne serie blev derfor en overraskelse, da serien fik lov til at udfolde dets komplekse og interesserende plot og dets fængslende cast.
Serien handler om en gut, der på trods af sociale og psykiske problemer, forsøger at leve en så normal tilværelse som mulig. Hans utroligt skarpe intelligens og tendens til at bruge denne til at udpege bukkene fra fårene (så at sige), får ham i problemer, hvilket bliver hovedhistorien for denne serie. Han bliver en del af hacker-gruppen "fSociety" som forsøger at slå ned på den lille elite af mænd og kvinder der styrer verdensøkonomien.
Til trods for illustreringen af en rå tilværelse på stoffer og i kanten af samfundet, har den overraskende få nøgenscener, hvilket på mig virker som et team der fuldt ud tror på plottet og historien af serien. – Et kæmpe plus i min bog for det alene. Derudover er jeg fængslet af plottet og castet af skuespillere. Plottet får mig til hele tiden at tvivle på om alle de mennesker hovedpersonen lige pludselig er omringet af foregår udelukkende i hovedpersonens skizofrene hoved eller om det er den sande verden han befinder sig i. Denne serie har potentiale for de helt store plot-twist, og jeg bliver slemt skuffet, hvis den ikke udnytter dette potentiale for fremtiden.
Indtil videre, ved første indtryk får serien 5 ud af 6 robotter fra mig: For 100 procent satsning på plottet, dets cast og måden hvorpå de fremviser historien.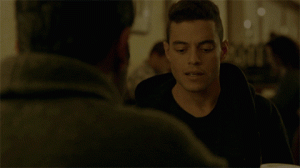 ---
Honestly, not love at first sight. More a forced intervention after a recommendation from a friends friend. However, this TV-show have proven to me once again that you should really not judge a TV-series by it's introduction pictures. I thought this series was about some dude being a robot and finding his way in the world. I got tired by just thinking about it, because honestly, there has been too many films about this subject. Thus, the encounter surprised me greatly with a complex and interesting plot, and an intriguing cast. It is definitely going on my ever growing list of series to follow.
The series is about the main character, who is socially troubled, however, amazingly intelligent and how he is trying to live and how to exists in a world with extroverts with amazing social skills. He encounters a group of people called "fSociety" and becomes a part of their plans to hack the leaders of the world economy.
Despite its rough nature and characteristics of troubled existence, it does not find it necessary to image a lot of nudity. A major plus in my book. Furthermore, I am highly intrigued by the plot and it makes me wonder throughout the entire show – what parts of the series will eventually be revealed as figures of his (the main characters) imagination. This show has the possibility for a major plot-twist and I am looking forward to see it happening. Honestly, that is also the minus. Because if it eventually does not reveal some sort of plot twist – I will be disappointed and it will possibly be the end of my enthusiasm for the series.
This show gets – until so far – 5 out of 6 stars: For its plot, its cast and the way they display the story.