Lately, I've been quite hooked on pie for dinner. It is so easy to make and you can easily fit this version to whatever is in your fridge. And, despite it being a "this was what's left in the fridge" kind of tart, it is still delicious. Which is why I LOVE it. So, in this blog I will add another recipe to my dinner-"library" of glutenfree and dairy free (Dairy – not diary – spelled it right, yay!) recipes.
Ingredients:
90 gr Becel (a butter that is not mate of Dairy).
100 gr Almond flour (I blend 100gr of almonds until floury).
100 gr glutenfree oatflour or buckwheat flour (or another kind of glutenfree flour).
50 gr cornflour.
6 tbsp water.
Salt.
Vegetables.
Possibly some kind of meat.
3 eggs.
Cashew-cream:
75 gr cashew nuts (after being in water for at least 4 hours).
2 tbsp nutritional yeast.
lemon juice
2 tbsp water.
IMPORTANT: First, make sure you have had cashew nuts in water for at least four hours. The cream will not be as good otherwise.
Mix the ingredients for the bottom pie crust. When that is finished, I usually just spread the pastry in a tart mould and put it in the oven for about 10-15 minutes on 175 degrees in a hot fan oven. I usually take a fork and put "stab" the pastry before putting it in the oven.
In the mean time cut the vegetables and heat them on a pan. Add the meat, if you have planned to add that as well. Blend the cashew nuts, nutritional yeast, lemon juice (add on taste basis) and water and add the cream to the vegetables on the pan.
When the tart is finished with its first session in the oven, add the vegetables, lightly whip the eggs and spread these out on top of the vegetables.
Put it in the oven again until finished. You will know its finished when the eggs in the topping are firm and not fluent.
And bon appetit.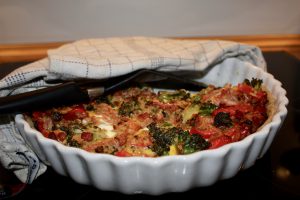 Tip: You can cut it out in peaces when you are finished eating and freeze them. In this way you have a light and delicious dinner or lunch for the coming days.