I've been dying to try making something "breakfast-y" for the easy and fast breakfast. So, inspired by different healthy muffin recipes, I've assembled the best of all worlds and these are what came out of it. They are good straight out of the oven, but they are also good the day after. 🙂
Ingredients:
2 ripen bananas.
3 eggs.
2-3 tbsp Peanutbutter
1 tsp baking powder.
1 tsp vanilla
1 tsp Cinnamon
1,5 decilitre muesli (Glutenfree oatmeal blended and a handful almonds chopped is one version, another could be this muslin I've made with great success (of course with glutenfree oatmeals and I admit to leave out the rasins).
First you mash the bananas to a coherent mass. Then you add the baking powder, vanilla, cinnamon, and muesli into the mixture and mix it up good. Then add the peanutbutter to the mix as well. The mixture are divided into muffinforms (you can add a piece of chocolate to each muffin – just make sure it is a dark chocolate (70 percent and up) and make sure t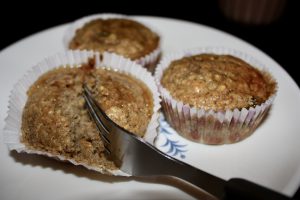 o read the inscription to be sure there isn't any diary in it) and are baked in the oven 175 degrees for 15 minutes (fan-oven).
Voilá – delicious breakfast muffins to go. Add some sugar on top or eat them with a cup of tea in the afternoon. They will satisfy that small hunger that aches for sugar after school or work. 🙂